by JewelStruck
closeAuthor: JewelStruck Name: JewelStruck
Email: jewelstruck@gmail.com
Site: http://blog.jewelstruck.com
About: On JewelStruck blog, we will post everything happening in & around Jewelry field. Posting about Latest Jewelry Trends, Jewelry Making and other tutorials, Jewelry Designs, News related to Jewelry, Parties, events and exhibitions going across the world. We would also be posting Interviews, reviews and launch storiesSee Authors Posts (190) on Nov.10, 2009, under GEMS
Continuing a Gemstone Each Month Series (GEMS) on citrine for november month, I would like to discuss about location of citrine mines and types of citrine. So what to wait for – lets start exploring citrine :-)
Citrine Mines
Natural Citrine is very uncommon and occurs sparingly in many large Quartz deposits. Most citrine is mined in Brazil. Largest source of citrine is the Brazilian state of Rio Grande do Sul, particularly the Serra mine, which is producing 300 kilos a month of hammered goods. The Iraâ mine produces an additional 100 kilos a month. Other sources include Madagascar, Argentina, America, Burma, Namibia, Ural Mountains of Russia, Scotland and Spain. Deposits in the United states are in North Carolina, Colorado and California.
Environment friendly mining – Citrine mining do not involve the use of toxic and environment-unfriendly chemicals and materials such as mercury and cyanide. The rock is simply fractured (using a compressor and rock breaker, e.g. Jack hammer) and the gems are washed in water. Mining is thus, environment friendly.
Types of Citrine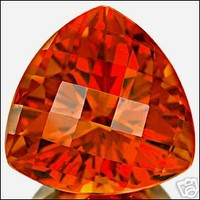 Madeira Citrine – Dark sherry-colored,  brownish-red to orange-red Citrine. The name is derived from the color of Portuguese Madeira wine.
Palmeira Citrine – is a bright amber orange colour. It is named after the place Palmyra in the south of Brazil. Generally the darker the Gemstone the more you will pay for natural Citrine.
Golden Citrine – with a golden yellow color. The golden yellow color of citrine is quite popular with jewelry designers today and mixes with yellow gold very well.
Lemon Citrine – with a lemon yellow color. Although the darker, orange colors of citrine,  has generally been the most valued color but in modern times, many people prefer the bright lemony shades which mix better with pastel colors.
Ametrine – A natural mixture of purple Amethyst and golden Citrine has been coined with name "Ametrine".
To end the article with – I would love to showcase a gorgeous Victorian necklace using Ctrine by one of our facebook group member Erica Harel.
Image Credits – Crystalscrystals, NationalGeographic, Gem-plus, Gemhut, ebay-guide
If  you have more information on citrine mines or on types of citrine, please comment about it.
You might be interested in:
Related Reading:
:Ametrine, Citrine, citrine mines, GEMS, golden citrine, Lemon Citrine, Madeira Citrine, mining, necklace, Palmeira Citrine